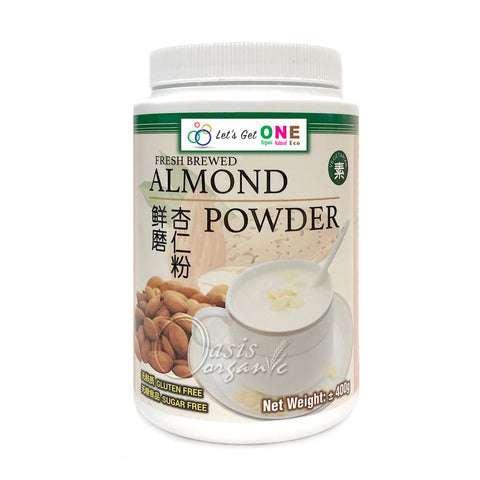 Almond Powder
鲜磨杏仁粉
400g+/-
Made with Premium Unbleached Whole Almonds. Contains 100% freshly milled almond powder without fillers.  A powerhouse of nutrients such as iron, calcium, protein, monounsaturated fat, fibre, vitamin E and vitamin B17.
Regular consumption of which will help strengthen the respiratory system and lungs and helps keep the skin supple and glowing.  Highly recommended for smokers and people exposed to a dusty environment.  
Contains vitamin B17 which helps fight cancer cells.   
2 to 4 teaspoons of almond powder can be added directly into water and taken hot or cold.
Can also be used as a cooking or baking ingredient.
Gluten Free 
Lactose Free
No Sugar Added 
No Preservative
No Artificial Colouring
No Artificial Flavouring   
Vegetarian  
Product of Taiwan.
---
We Also Recommend
---