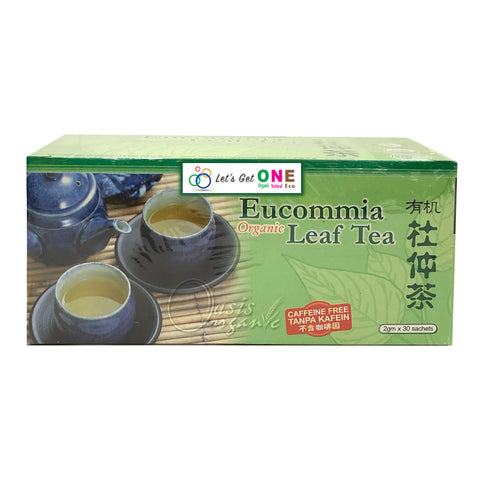 Tea ~ Organic Eucommia Leaf Tea
有机杜仲茶
30 sachets x 2g
Organic Certification by JAS and USDA. 
Researched and tested by 5 countries and 12 universities for its health benefits.  Caffeine, preservative and colouring free.
Recommended for people with 
- high blood pressure
- tendency to consume fattening food
- men after 30years of age and post-menopausal women
- desire to control body weight
Ready to be enjoyed after simmering the tea bag into boiling water for 10 mins. 
Take 1 packet for general health well being, 2-3 packets for management of blood pressure and 3 packets for weight management.
Product of Zhejiang.
主要功能
- 降血压
哈佛大学教授胡秀英博士曾经说过:"杜仲是世界上最 好的天然降压药,它拥有其他降压药不能相比的优点"
- 分解脂肪
日本小林制药株式会社于2006年8月5日发表了纯杜仲茶"能减少人体内脏脂肪"
有机杜仲茶的特点
- 100%天然有机杜仲叶
- 获得中国,日本和美国的有机认证
- 5个国家,12所大学进行过研究及试验证明有效
- 不含咖啡因。
- 入口甘香清醇,没有药味
谁最需要
- 高血压患者
- 有高血压倾向者。
- 常应酬,常吃肥甘厚味者
- 30岁以后的男人以及绝经后的女士
-  想要控制体重者
饮用方法
把茶袋放入杯子里,加入滾水,焖10分钟后当茶水饮用,可以        冲泡两次。
用量
- 保健,每天一包
- 高血压,每天2~3包
- 控制体重者, 每天3包
---
We Also Recommend
---